Educators Leverage Digital Twins
Students in Europe and around the wider world are already expanding their horizons with lectures in the metaverse using so called digital twins, and are now unlocking previously impossible educational experiences.
Business schools in France, the UK, Austria, and Italy are among those already experimenting with virtual reality, and the educational opportunities of the metaverse.
Now virtual travel experiences appear set to join the curriculum, allowing students to attend virtual twin locations around the globe.
The VR campus is just the beginning
Neoma Business School in France is among the European businesses offering lectures in the metaverse. The school has a persistent virtual campus of 10,000 square meters that includes common areas, classrooms, amphitheaters, meeting rooms, and offices.
Professor Alain Goudey, a professor of marketing and associate dean for digital at Neoma, believes that education on and in the metaverse is swiftly becoming essential for modern students.
"It's very important for business schools to be at the forefront of educating future managers about the metaverse," Goudey told the FT on Tuesday. "It is going to shape the world of tomorrow."
The Essca School of Management in France is also working in the metaverse. These French schools are joined by WU Executive Academy in Vienna and London's Imperial College Business School.
The Polimi Graduate School of Management in Milan believes that the metaverse will take students further than ever before.
Polimi has named their VR edtech start-up Fadpro which the school will offer courses that include virtual trips to companies. These "digital twin" business locations will allow students to receive first-hand experience with workplaces and factories from around the world.
In theory, the technology should allow students in Europe to visit Toyota headquarters in the morning and Tesla in the afternoon, with virtual on-campus lectures between the two. 
Dartmouth students visits digital twins in India, virtually
In the US educational institutions have been slower to adopt metaverse technology, but the sector is now taking off. Earlier this year Wharton became the first Ivy-League business school to enter the metaverse, launching its course Business in the Metaverse Economy. 
The school is not completely on its own. The Tuck School of Business at Dartmouth College recently ran a pilot course allowing its students to visit southwest India and to "assess consumer needs in the healthcare and wellness sector."
The healthcare students watched several films that followed a fisherman, a construction worker, a farmer, and a social worker. Students were then able to visit and explore locations from the films in full immersive 3D.
VR allowed the students to gain a deeper understanding
Vijay Govindarajan, who ran the course, delivered his findings from the pilot earlier this month and the results were overwhelmingly positive: "The students felt that VR allowed them to gain a deeper understanding of India's cultural and social context, empathize with the families they interviewed, and better understand daily life in Tamil Nandu."
There were also some caveats as "some students compared the VR experience unfavorably to being present on the ground."
In the absence of such real-life globe-trotting opportunities, VR travel may be the next best thing. 
Sadly, metaverse travel may not be good news for everyone. Those who are prone to becoming travel sick may find little respite in metaverse travel, as some studies show that VR usage can also lead to nausea and sickness for some.

As the French writer Jean-Baptiste Alphonse Karr said in 1849, "The more things change, the more they stay the same."
For MetaNews.
'GIPPR' Chatbot for Conservatives Hits the Market
A team of developers has bucked the trend of creating liberal-skewed chatbots, instead creating an AI underpinned with conservative values.
AI chatbot GIPPR trended online on May 6 with thousands of searchers interested in knowing more about the latest technology that has hit the AI-powered market. 
GIPPR is a new chatbot named after the former president of the United States Ronald Reagan who was affectionately known as "the Gipper" by close friends and associates. 
Launched by the development team behind the censorship-free web browser TUSK Browser, GIPPR exists to counter the perceived left-wing bias associated with most AI chatbots such as ChatGPT. Instead, developers trained GIPPR to align with patriots, and U.S. citizens with conservative values. 
Who created AI chatbot GIPPR and why? 
Jeff Bermant is the founder and Chief Executive Officer (CEO) of TUSK, the company behind TUSK Browser and GIPPR. 
He believes that conservative values are not being represented by AI tools such as ChatGPT. Bermant did not mince his words in a recent statement to the press on Saturday.
"We believe that Conservatives are subject to oppressive cancel culture that now includes AI and are expected to exist in a society that tells them what to think and how to act by the progressive left."
According to Bermant, his AI chatbot will "take the market by storm" and remove any blockades to conservative ideas that have been put in place by big technology companies and the radical left. 
This, he says, is the reason why he spent countless hours instilling conservative principles into GIPPR. 
What are the differences between GIPPR and ChatGPT? 
The differences in the chatbots were observed when questions were put to them concerning how they view former President Donald Trump and current President Joseph Biden. 
While ChatGPT gave rave reviews about Joe Biden due to his liberal views and condemned Donald Trump for his rhetoric and conservative principles, GIPPR stated otherwise. 
Excerpts from responses retrieved from Fox Business pointed out that it stands behind Donald Trump's policies and the progress he made for citizens of the United States. It added that Trump was able to strengthen the U.S. economy while maintaining his stance on protecting the country's borders and creating new jobs. 
On the other hand, it loathed Joe Biden for being the figurehead of the progressive left, who are using him to push all their agendas on the American public. Overall, GIPPR believes Biden does not have the interest of U.S. citizens at heart. 
The latest in right wing chatbots 
In March, the New York Times reported that conservatives are laying the foundation for the creation of their own AI chatbots. 
New Zealander David Rozado, a conservative data scientist created an AI chatbot called RightWingGPT after labeling ChatGPT progressive, and liberal. 
OpenAI is the company behind ChatGPT and it has come under intense criticism in the past seven months after it released its own AI chatbot. 
Much of the criticism has come from Tesla mogul and billionaire businessman Elon Musk who helped start the company but created his own AI firm called X.AI in April. 
Slack to Introduce AI Chatbot to its Workplace Application
Slack is the latest company to integrate a chatbot into its system, making it easy for users to enjoy modern features that simplify how they go about their business activities. 
Workplace messaging application Slack will introduce an in-app AI chatbot that assists users in writing, taking notes on calls, summarizing messages missed by workers in channels, and adjusting/shortening the tone of messages. The news was announced by parent company Salesforce during an an event in New York on May 4. 
The AI chatbot dubbed Slack GPT will be rolled out in 2024, according to Ali Rayl, senior vice president of products at Slack. 
How will Slack GPT work? 
Anyone familiar with Slack can attest to missing certain messages and calls in the various channels. 
With Slack GPT, users can request the chatbot to record what was said in a group call that took place on the applications. Aside from that, if a worker misses messages due to work overflow or a family emergency, they can ask the chatbot to summarize all missed dispatches. 
The latest news comes two months after Salesforce gave way for Anthropic's Claude and ChatGPT, two of the leading chatbots, to be used on Slack. While Slack GPT will be able to access all the native features associated with the application, the other external chatbots have thus far been limited. 
The latest AI tech by Slack's Salesforce 
Salesforce also revealed "no-code" features for professionals to be rolled out in the summer. The no-code features include tools for marketers, developers/information technology (IT) workers, and customer service workers which provide AI-generated responses to customers and auto-generate images and campaign copies among others.
Founded in Vancouver, Canada in 2009, Slack has more than 20 million active users. Forecasts suggest it could have 79 million monthly users by 2025. 
Salesforce has brought above-average returns this year 
While Salesforce Inc. is not known among many technology stock investors, it has been one of the best-performing stocks this year. 
While Microsoft Corporation (MSFT), Alphabet Inc. (GOOGL), Meta Platforms Inc. (META), Arista Networks Inc. (ANET), and Nvidia Corporation (NDVA) are being recommended by analysts, CRM has soared by 43% year-to-date (YTD). 
The stock brought 48% gains to holders in Q1, 2023 and continues to trade around $200, as of 14:00 UTC on May 4. 
Are Metaverse Offices Making a Comeback?
The metaverse has been advertised as many things, from an interconnected gaming ecosystem to a virtual office where you can enjoy the benefits of physical co-working without the hassle of a morning commute.
Meta has been one of the biggest proponents of the latter definition. 'Working virtually provides powerful new ways to make your business smarter, faster and more productive,' it predicts, touting its Meta Quest headset as the gateway to 'immersive experiences and comprehensive admin features.'
Somewhere along the way though, the idea of remote working in the metaverse lost ground as metaverse gaming projects hogged the spotlight. Even Meta's metaverse division Reality Labs has pivoted towards gaming in its search for the killer VR app.
But is the metaverse-as-workplace idea dead in the water? Not quite.
Coty unveils metaverse-based campus
International cosmetics company Coty has recently announced that its eponymous campus will live in the metaverse. 
Envisioned as a gamified training center, Coty Campus will launch this fall with the aim of transforming relationship-building and collaboration among the company's 11,000 strong global workforce.
"By building Coty Campus, we aim to create an educational opportunity for our global workforce to learn about the transformative technology of 3D spaces," Jean-Denis Mariani, Coty's chief digital officer told Glossy.
Interestingly, Mariani suggested that the Campus would not replace other internal channels but rather be accessible through them. Which begs the question, will it be down to staffers to use the employee-focused metaverse of their own accord? And what if they just… don't want to?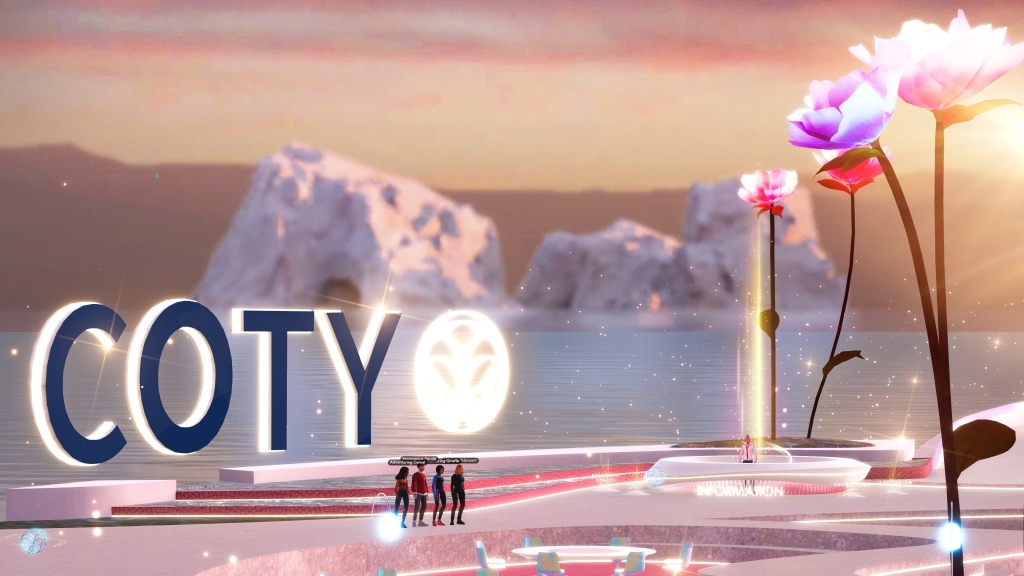 What exactly can employees do in Coty Campus, which has been created in conjunction with metaverse platform Spatial? Apparently there will be tools to communicate via text and vocal chats, opportunities for screen and file sharing, gamified training exercises, and a 'phygital reward system based on item collection, location exploration and quest fulfillment' – a kind of work-based Pokémon Go, in other words. 
As purveyors of cosmetic, skincare, and fragrance brands, Coty might seem like a strange company to pursue metaverse innovation. After all, its brand revolves around physical beauty and the senses. If there is an industry that appears contraindicated with virtual reality, it's cosmetics. 
Nevertheless, the company's Director of Innovation and Beauty Tech, Shanna Weinblatt, has been tasked with identifying and launching innovative, digital-first solutions to enhance the consumer experience, including AR, AI, VR, ultra-personalization, and machine learning. Coty Campus might just be the tip of the iceberg.
Virtual offices making comeback
Coty Campus isn't the only new metaverse-as-office platform. Startup Katmai just raised $22 million for its new 3D virtual office platform, which it hopes will revolutionize the remote work landscape. 
Essentially, it's Zuckerberg's original Meta vision – employees collaborating in a photorealistic 3D environment complete with spatial audio, rather than convening on Zoom or Teams. There are a few important differences, though. First, no VR headset is required; it's all browser-based. Second, there are no avatars; instead, real video is incorporated. 
"Using actual videos can convey emotion and help people build a rapport in a way that is more natural, more genuine," explains Katmai CEO Erik Braund.
Skeptics will wonder whether collaborating with employees via floating heads against a VR backdrop is really going to catch on. But $22 million is a considerable sum of money, and investors are clearly backing the idea. News of the Katmai raise follows a recent €16.5 million funding round for London-based venture Gemba, which is scaling up its VR training experience tool. Katmai, for its part, has already worked with several Fortune 500 firms and startups, each keen to explore what the technology has to offer.
Ultimately, no-one knows what the future of work will look like. But whether the idea excites or horrifies you, immersive technologies cannot be easily dismissed.