An artificial intelligence (A.I.)-generated image showing an explosion near the Pentagon went viral on this week, causing panic and controversies.
Though the image's origin remains unknown, the picture was shared by several verified Twitter accounts, lending some credence to the fake photo.
Following the rumors, the S&P 500 dipped 0.3% as traders panicked. Lorenzo Green corroborated this, saying it caused a "$500 million market cap swing."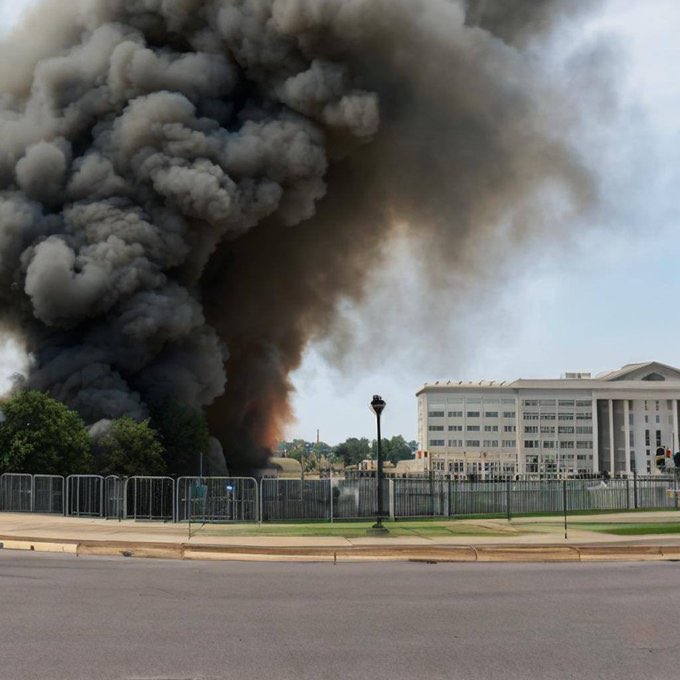 Authorities deny Pentagon explosion rumors
The Arlington Fire Department stated, "NO explosion or incident taking place at or near the Pentagon reservation." It added:
"There is NO explosion or incident taking place at or near the Pentagon reservation, and there is no immediate danger or hazards to the public."
In response to the news, U.S. Congressman Joe Morelle described A.I. as "a powerful tool with significant potential—and significant consequences." Morelle urged people to remain vigilant and ensure the technology was not weaponized to spread dangerous disinformation. Former T-Mobile CEO John Legere noted that some AI-edited photos are now causing real-world issues.
One of the verified accounts that shared the image apologized for spreading misinformation. The page also used the avenue to discuss how easily these fake images can cause misinformation.
Sorry for the Confusion and possible Misinformation, there is a lot of Reports and Claims going around right now that I as 1 Person am struggling to get a handle on.

— OSINTdefender (@sentdefender) May 22, 2023
Questions surround Twitter's role in the fake image spread
The spread of AI-generated images raised concerns about the authenticity of verified Twitter accounts. In the past, Twitter verification was exclusive to people or organizations with verified identities. However, under Elon Musk, the blue check is now available for anyone who pays the monthly $8 fee.
Consequently, the Twitter verification badge no longer serves as an acknowledgment of a page's credibility. Concerns have grown about fake accounts impersonating individuals, organizations, etc., who have the once-coveted blue-check marks.
AI-generated images cause controversies
Meanwhile, this picture follows a series of AI-generated images that have caused controversies in the past months.
Earlier in the year, an AI-generated image of the Pope wearing a long white puffer jacket went viral. Also, another AI-generated image recently won an award from the Sony World Photography Awards, beating other real-life photos. While the artist has rejected the award, he claimed that his application was "to find out if the competitions are prepared for A.I. images to enter."
In another development, a set of pictures circulating online showing Elon Musk kissing several female robots have been discovered to be AI-generated. Popular French Medium, France24 debunked the authenticity of the images, claiming that Musk wasn't building robot wives.